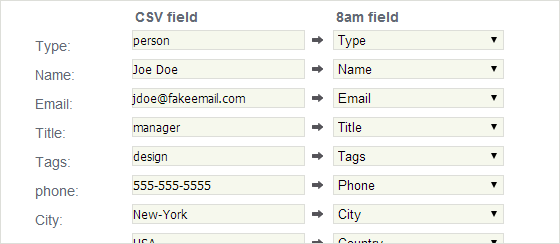 We just added the possibility to import your contacts from CSV – the universal file format that Excel (and pretty much any software) can export to. It means you can easily get your contacts into 8am (and if you are still keeping them in an Excel table – you definitely should!).
Do not worry too much about the format of your file – it will let you map your fields during the import. Plus there are a couple of examples we supplied. It will even let you import custom field values (just make sure you add the custom fields in 8am first).
You can find the link to the importer in the "settings" menu on the top. For details about the supported fields, check the Help section.
Email us if you have any troubles with the import.